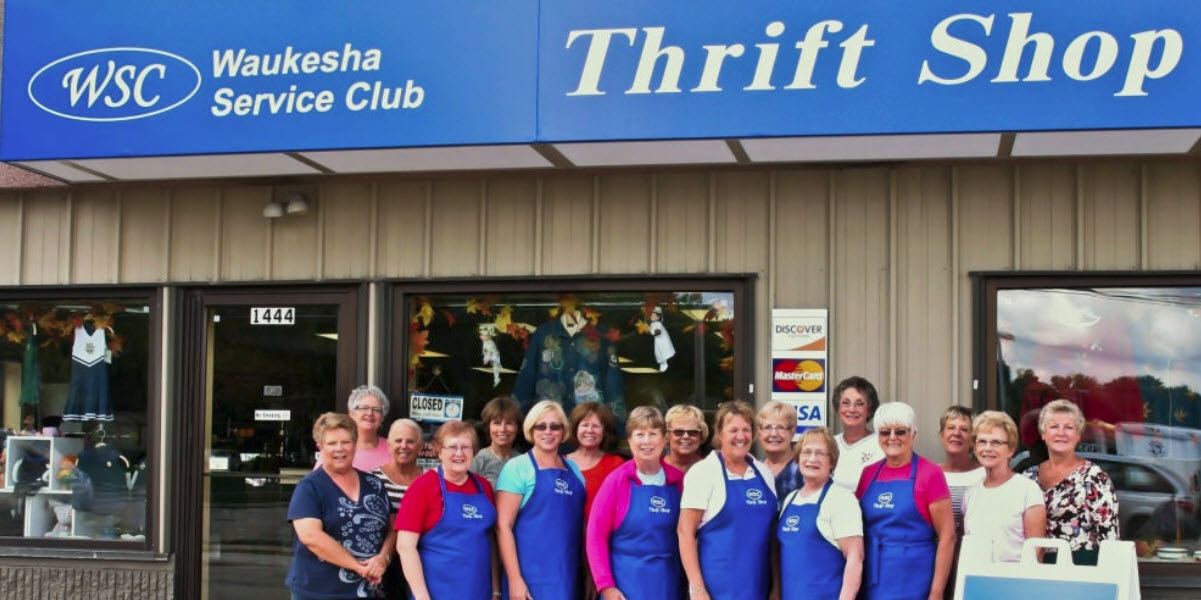 The Waukesha Service Club Thrift Shop originally opened in 1934 to provide low cost, gently used quality clothing to the community. Merchandise now includes not only clothing for the entire family, but also shoes, housewares, sporting goods, toys, books, art, jewelry and vintage items. Donations of these items are accepted during normal store hours. We cannot however, accept large furniture items or electronics. The shop offers many sales throughout the year as well as Wednesday discounts of 25% for seniors, and a reduction of 25% every day for Veterans. Revenue from the Thrift Shop sales is allocated to Waukesha County community nonprofit groups in the form of grants.
The Thrift Shop is completely managed and staffed by the volunteer-members of Waukesha Service Club, who collectively donate more than three thousand work-hours per year to operate the store.
Merchandise and sales information is posted regularly on Instagram and Facebook at Waukesha Service Club Thrift Shop.
Below are just some of the items we get into our Thrift Shop. Come Visit!
25% Senior Discount every Wednesday Veterans Discount 25% Daily

Interested In Joining The Waukesha Service Club? Become A Member Today!
COVID – 19 safety protocols are implemented to provide a safe and healthy experience in our Thrift Shop.
Masks must be worn by all volunteers and customers.  You will need to provide your own mask.
Social distancing must be observed in the Thrift Shop at all times.
There will be a limit of the number of shoppers/volunteers allowed in the Thrift Shop at any one time.
Items on the floor have been arranged for social distancing.
Dressing rooms are open.